You can tell I am enjoying a piece when I am afraid to go to sleep before finishing it, spraying fixative on it, scanning it, doing pre-press, and proofing it.
O Frabjous Day: Currently Only Available on Etsy – This is a limited Edition of 10, and having learned my lesson with the last limited offer… the one about going to sleep thinking *only a few* might sell before I wake, I decided to put them all in one place – [Here Is The Link] (More Details are below, or over there).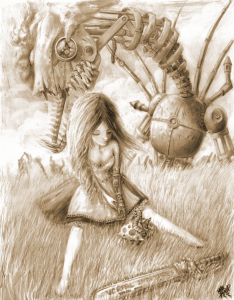 15×18 inch giclee print (printed area 11×14) on fine art rag from the original pencil sketch by Myke Amend, printed in archival pigment inks to make for a 200+ year archival giclee print.
Each is discretely signed, numbered, and dated by the artist in pencil, within the margin.
This limited edition of 10 was made just because I thought it would be a shame for the image not to be available as a monochromatic print, and for those who really like to collect rarities.
I do plan to make a less-limited edition of this image, which will be digitally colored in full color.
The pencil drawing was done as a commission for friend, Violet Ash in June of 2010, a part of a small set of pencil commissions I offered up to raise gas money to the World Steam Expo.