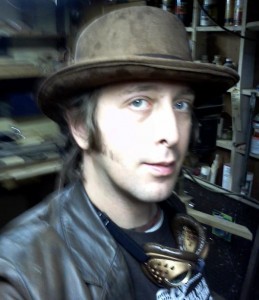 Myke Amend is a weaver of strange worlds in which darkness and the macabre, fantasy, speculative fiction, emotion, and even politics blend seamlessly into fantastic, surreal, horrific, yet serene and wondrous worlds of tranquil chaos.
His paintings and engravings have been shown in many magazines and books, served as album covers, have appeared on television shows, and served as both scenery and plot devices in movies. From Abney Park to Vernian Process, Steampunk Tales to Gatehouse Gazette, Weird Tales Magazine, Beneath Ceaseless Skies, the RPG "Airship Pirates", on the set of NY Ink, and highlighted on Home Strange Home, his work is pretty well-known and easily recognized within the Steampunk subculture, especially the works from his "Airships and Tentacles" series, wherein Lovecraft and Jules Verne intermingle into an odd new world explored by various Davinci-styled airships and Vernian seacraft.
Influenced greatly by Gustave Dore, Zdzislaw Beksinski, Gerald Brom, Derek Riggs, Pieter Brughel, and others, a thing most commonly noted about Myke's artistic style is his attention to detail and obsessive details within details, rendered in dream-like fashion: visionary, surreal dreamscapes, strange and ominous, whimsical with child-like imagination.